This self guided walking tour will lead you to the must see sights and best places within the Old City Walls. The total distance is 5.6 km, we recommend to plan 3,5 - 4,5 hours including plenty of time for temple visits and a coffee break.
start at Casa VESPA
Chiang Mai Gate Market
Tha Pae Gate
Wat Pan Thao
Wat Chedi Luang
Three Kings Monument
Fern Forrest Cafe (Coffe break)
Wat Phra Singh
Nong Buak Haad Park
Wat Sri Suphan (Silver Temple)
return to Casa VESPA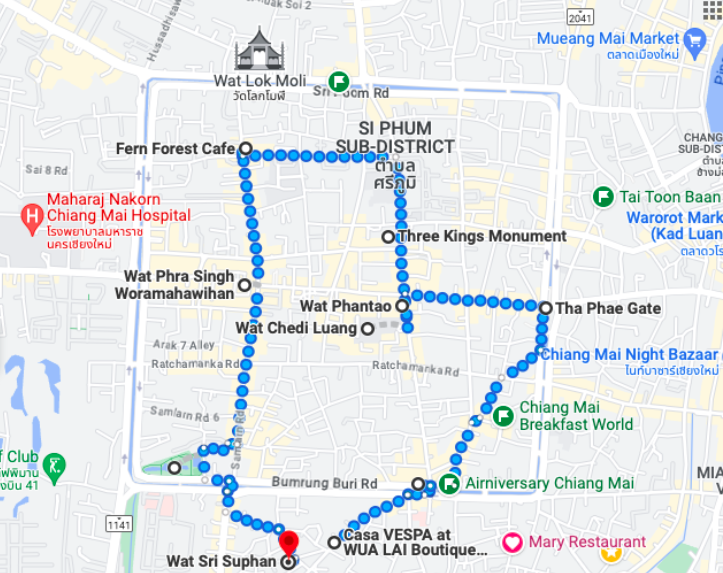 CHIANG MAI GATE MARKET
This local market is a food lover's paradise. Early morning, from 4am to 6am you can witness monks on their alms round, collecting food from the locals. Between 6am an 11am it is a local breakfast heaven for delicious northern Thai dishes. From 5pm to Midnight it becomes a popular destination for a local Streetfood Dinner.
THA PAE GATE
One of the most famous landmarks in Chiang Mai and popular photo spot. Located on the eastern side of the Wall, it is one of the historic Gates to enter the Old City.
WAT PAN THAO
The viharn is an all wooden building constructed from teak panels set on a stone base. Originally it was a throne hall for one of Chiang Mai's Kings, built in 1846.
WAT CHEDI LUANG
This 14th century Temple, where the City Pillar Shrine is located, is famous for its enormous chedi, which is measured at 282 feet high and 144 feet wide. "Luang" means "large" in northern dialect, and as the name suggests, Wat Chedi Luang Temple is home to Chiang Mai's largest Buddhist chedi built featuring 98 meters tall and 54 meters in diameter. The construction of the orginal chedi was completed in 1481 during the reign of King Mengrai.
THREE KINGS MONUMENT
Considered as the city's landmark this monument stands majestically in front of the old town hall. These three kings are regarded as the creators of the Lanna kingdom. The old Town Hall serves now as the Chiang Mai City Arts and Cultural Center.
FERN FORREST CAFE
This cozy cafe offers a lush shady garden to relax, enjoy a house coffee from their own farm and some their sweet, homemade pastries, which range from fruit mousses to fluffy carrot or macadamia cakes.
WAT PHRA SINGH
This important temple is located in the western part of the Old City of Chiang Mai. The main entrance is guarded by Singhs (lions). Wat Pra Singh is situated at the end of the main street (Rachadamnoen road) of Chiang Mai and home to an important Buddha statue: the Phra Buddha Sihing which gives the temple its name.
NONG BUAK HAAD PARK
This public park is a haven of peace and tranquility against the chaotic traffic in the city, with a decent coffee shop, ponds, and Tai Chi practice in the early morning. The place is at the center of the annual Chiang Mai Flower Festival.
WAT SRI SUPHAN (Silver Temple)
The impressive Lanna-style Buddhist temple originally dates to the 16th century. The most recent renovations were completed in 2016 by skilled traditional silver smiths and local craftsmen and is the World's first Silver Sanctuary.