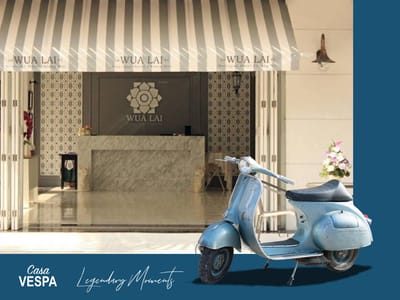 Casa VESPA®
is a new hospitality concept that combines
"La Dolce Vita"
lifestyle with a tribute to the world's most iconic scooter and finest local experiences.
STAY
■ relax in contemporary boutique hotel accommodation
SCOOT
■ discover the destination in style, freely, conveniently & individually
EXPLORE
■ experience the variety of local culture, history and traditions
Casa Hotels
are for suitable for guest over 12 years.
Our first hotel in Chiang Mai is located on Wua Lai Road, the location of the popular Saturday Walking Street, a lively and fun night market. Nearby is Wat Sri Suphan, also known as the Silver Temple, which is unique in Thailand. The Old City walls are just a short walk away, Chiang Mai International Airport can be reached in less than 10 minutes.
Our
12 Rooms & Suites
invite you to relax and chill after an exciting or adventurous day in Chiang Mai. We are the only hotel in Chiang Mai with private balconies overlooking the Saturday Night Market - a.k.a. WUA LAI Walking Street.
---
คาซ่า เวสป้า การต้อนรับรูปแบบใหม่ที่ผสมผสานระหว่าง ไลฟ์สไตล์ "ลา โดลเช่ วิต้า" ของอิตาเลี่ยน กับตำนานสกู๊ตเตอร์ที่เป็นที่รู้จักกันทั่วโลก
พบประสบการณ์และการเรียนรู้ใหม่ๆในเชิงท้องถิ่น

พักผ่อน ■ พักผ่อนในสไตล์โรงแรมบูติกตกแต่งในแบบร่วมสมัย
สกูตเตอร์ ■ สะดวกสบายในเดินทางชมเมืองอย่างมีอิสระ และคล่องตัว
สำรวจ ■ พบประสบการณ์ และการเรียนรู้ ของประวัติศาสตร์,ประเพณี, และวัฒนธรรมท้องถิ่น
ทำเลสะดวกใจกลางเมือง ติดถนนคนเดินวัวลาย ทุกคืนวันเสาร์ (ถนนหน้าโรงแรม) ใกล้วัดศรีสุพรรณ (วัดเงิน) และตลาดประตูเชียงใหม่ รวมของอร่อยยามค่ำคืน
ห้องพักทั้ง 12
ห้องของเราเชื้อเชิญให้คุณพักผ่อนและทำใจให้สบายหลังจากวันที่ตื่นเต้นหรือผจญภัยในเชียงใหม่. เราเป็นโรงแรมแห่งเดียวในเชียงใหม่ที่มีระเบียงส่วนตัวที่มองเห็นตลาดคืนวันเสาร์ - หรือที่รู้จักกันว่าถนนคนเดินวัวลาย